In less than 5 minutes, 17 red stamps of stamp size were put on. The Beijing opera performers performed a set of "walking" sneak peekaboo: cloud hands, kicks, twirling, turning over ...
Not far from the computer screen, after the performer put on the sensor, a virtual robot appeared. Starting from the slight swing of the first body, the virtual robot started to simulate each mindless fist with almost no delay and hit a set of exactly the same The "walking edge." The degree of sophistication and smoothness, the true abundance of details of the action make the performers wonder what their "virtual avatars" are.
"This is a short-term acquisition of human motion capture technology, which uses wireless motion attitude sensors to collect body posture orientation, the use of human kinematics restore human motion model, while the use of wireless transmission presented in the personal computer or tablet. Dr. Liu Hao Yang, general manager of Beijing Novozymes Technology Co., Ltd., said the accuracy of motion capture reached 0.3 degrees, which means that the slight tremor of the fingers can be captured.
The world's first fully wireless human body motion capture system developed by Novozym Teng also has the world's smallest and lightest wireless motion capture sensor module. "This postage-sized wireless attitude sensor is already the smallest of its kind on the market, but it's smaller than the one we've developed in the next generation." Liu Haoyang is better than his fingernails.
Have independent core algorithm
Advanced technology, integration of multi-disciplinary
Dr. Norman Yeo, technical director of Novozymes, said that as a multidisciplinary integration technology, the system has a very high threshold for development, and all wireless, small size, high speed, high precision and low cost are developed by Connaught Totech independently. Set of distinctive features of the system. After testing in the industry, the technology level is at least the top three in the world at present, and the precision is the first of its kind. It captures subtle human pose changes at speeds of up to 800 frames per second, whereas typical movies play at about 20 frames per second.
"Inertial sensor-based motion capture technology is not only accurate, and not subject to scene occlusion and light conditions, the farthest distance can reach about 150 meters." Liu Hao Yang said that the realization of the product price is relatively low, for motion capture technology popularization Create good conditions. The traditional optical motion capture technology is not only expensive, but also limited the use of the environment, which severely restricts the application and popularization of motion capture technology. The new sensor-based motion capture technology is considered as an important change.
"What we are most proud of is the core algorithm with independent intellectual property rights." Liu Hao Yang said that there are a number of giant technology companies wanting to buy Novo Tech's license.
The application is limited only by the imagination
Can be incorporated into wearable smart devices
"This technology can be used in a wide range of fields such as 3D animation, film and television production, as well as experiential games, physical exercise, medical rehabilitation, robots, etc. It can be said that its role can only be limited by imagination." Liu Haoyang said Motion capture technology can make high-quality animation more realistic, natural, each animation can save 80% of artificial.
In the area of ​​robots, Novo-Teng has also provided pilot attitude capture systems to help develop more ergonomic aircraft control and operating systems to improve driver-to-aircraft coordination. In the field of medical rehabilitation, this technique can even help the prostheses understand the wearer's intention of movement and realize the artificial intelligence.
"When this low-cost, high-precision human motion capture technology is incorporated into consumer products in the world, it leads to a better life and work experience." Dai said that the consumer smart wearable sensor has great future potential and " Action "is an important data type that wearable devices can provide.
Will "overflow" knowledge
Move to life application
Less than a year after its establishment, only 20 members of Norman Teng, whose English name "Noitom" is the English word "Motion" in reverse spelling, shows that the founders Liu Haoyang and Dai Ruoyi want to "subvert" the movement Determined to capture the pattern of the industry.
Liu Hao Yang obtained his Ph.D. degree in civil engineering and a master's degree in computer science from Johns Hopkins University in the United States. Dai Ruoli is a Ph.D. in automation major at the Chinese University of Hong Kong. Both of them are partial softwares. One is good at hardware and claims to be "interdisciplinary, Hard combination ", have a long history of international innovative product development experience. And this action capture system is a combination of software and hardware world-class platform products.
"The original motivation for developing this technology was actually due to our combination of knowledge structures. We've been in the sensor space, the sensors used to be large, heavy, expensive, and now they are becoming more commercial, smaller, lighter, and cheaper , This is a technological wave that can catch up. "Liu Haoyang said.
Dai Ruoyi think this is the spillover effect of knowledge reserve. Before doing basic research and development, found that the application of knowledge did not catch up with the knowledge of the reserve, there should be someone to move the results of scientific research to life applications. In the early stage of development, Nuoeteng Teams also pushed forward the R & D process with great difficulty in all aspects such as capital and manpower. "We never thought of doing this thing. We think it can be done well and it has also done a lot of fun."
Connaught Teng also went to the United States in July to participate in the World Conference on Computer Graphics, its own technology has received great attention. Disney, Boeing and other major international companies have come forward to exchange.
"There is limitless possibilities for science and technology, and the perfection of technology and the pursuit of performance are endless." Liu Haoyang said that in order to stay ahead, there should be a sense of not going backwards and forwards and developing and consolidating technological superiority. "Our challenge is to further create and perfect the motion capture technology platform, opening up a new era of action capture products."
Convex Plastic Roller: Hebei Naimei Bearing Co., Ltd. produces kinds of Convex plastic rollers. It could be standard bearing 608 or 626 or other types injected with plastic material of POM or Nylon. Or, it could also be non-standard bearings injected of plastic materials. It is used widely in sliding applications, such as sliding doors, sliding windows, shower doors, glass doors, aluminium doors or furniture wheels, etc,is also called shower sliding door roller. Convex plastic rollers are very multi-functional. Right now, our products are being exported to Brasil, Spain and Turkey, with good credit.
Hebei Naimei Bearing Co., Ltd. produces types of plastic bearing rollers:
1). Material: Carbon Steel/ Chrome Steel Bearing + Plastic( POM/ NYLON) Injection;
2). Application: for Aluminium Door and Windows; Aluminium Hardware Accessories and other sliding applications;
3). Plastic Color: Various, as per Request;
-- For any detailed inquiry of Non-Standard Bearing rollers, pls contact us freely. We will make a response within 12 hours.
Sliding Plastic Roller - Factory Direct Hot Sale
Bearing rings: Dimension tolerance, geometric tolerances, and surface quality of bearing` s working surface will influent the operating noise. Naimei Bearing adopts precision CNC machining to dimension precision, geometric tolerances, design drawing, mold making, grinding, cleaning, assembly, testing, every link of strict checks, so as to ensure all our products are tested by our strict criteria.
Balls: The balls evenly with by the cage, often make rolling movement between 2 rings. The shape, size and number will directly influent bearing`s load tolerance and operating capability. We use high precision, small vibration steel ball. It`s surface must be strengthened, no bumps scratches, lacerations, pitting and notch.
Cage: Enclose and move with all or part of the balls. It also be used to insulate the balls, guide the balls` movement and to improve lubrication performance inside the bearing., etc. Naimei Bearing`s cage is commonly made of cold rolling carbon steel. But in the corrosiveness environment, nonparallel or high-speed situation, stainless steel, engineering plastics cagecan be decided on request.
Seal: Naimei Bearing adopts different kind of seal material to meet the requirement of their operating in high temperature and being compatible with grease. Acrylonitrile-butadiene rubber is our standard material. but in high temperature environment ,often adopt fluorocarbons, silicone , PTFE shield.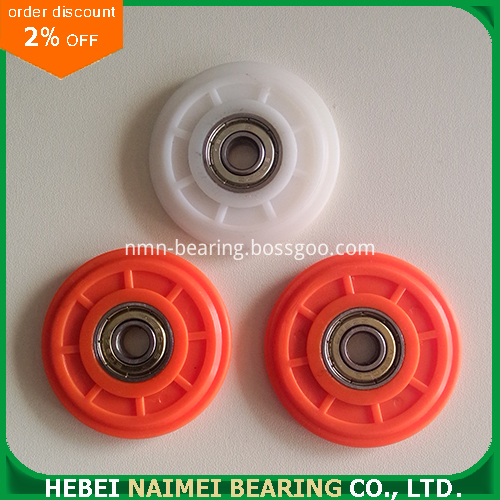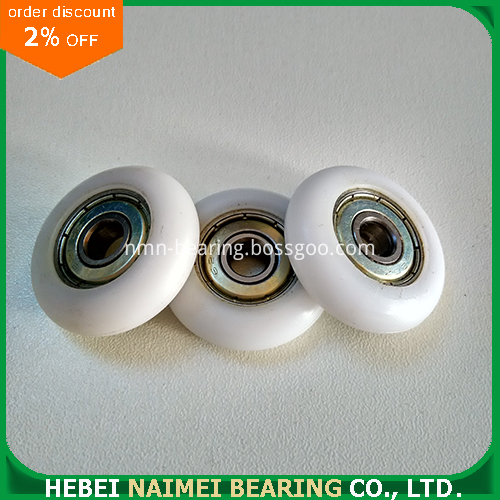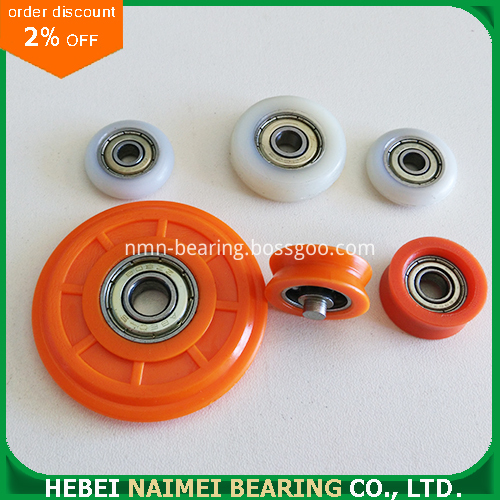 Convex Plastic Roller
Convex Plastic Roller,Sliding Furniture Roller,Bearing Furniture Roller,Plastic Roller Ball Bearing
Hebei Naimei Bearing Co., Ltd. , http://www.nmn-bearing.com