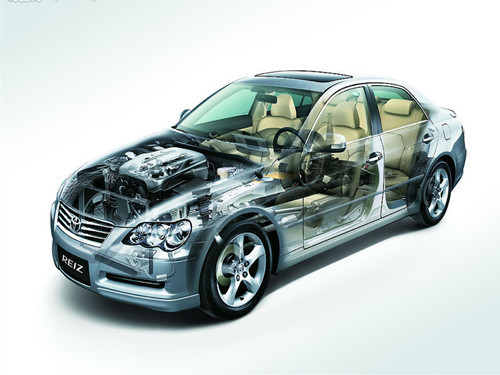 Under the anticipation that the outlook of the auto market is not optimistic, auto companies have cut their prices and restricted production. However, the profitability of dealers is still difficult to change, with large-scale loss of distributors and even collective withdrawal events. However, a survey by the Beijing Daily reporter found that the dealer group is relying on diversified development to seek transformation and trying to solve this problem. At present, a number of dealer groups, including the Grand Group and the Guanghui Group, are making every effort to build an integrated internet service platform project. Shen Jinjun, president of the China Automobile Dealership Association, said that after the market demand changes to the buyer's market, the automobile circulation industry is ushering in a change, and dealer profit models have become more diversified in order to cope with large-scale losses caused by the decline in sales profits.

Selling cars does not make money into normal

Compared with sales growth, the growth rate of car sales revenue has not kept pace. This also means that dealers hardly make money selling cars. This year, Shanghai Volkswagen, Chang'an Ford, Shanghai GM and other mainstream brands have announced price cuts. Jaguar Land Rover and other manufacturers have also reduced their production and reduced their inventory pressure.

However, the reporter visited the auto market and found that the dealer's living conditions have not improved. "Manufacturer's price reduction strategy is not enough to ease the survival crisis of dealers. At present, the models sold have already been 'price upside down' and subsidies are basically not available. Dealers are no longer able to bear inventory to help auto manufacturers rush sales." A Japanese joint venture brand distribution Business says.

It is reported that discounted cars have become a common phenomenon for dealers. A Beijing Hyundai dealer responsible person told the Beijing Business Daily that dealers rely on end-of-year manufacturer subsidies and bonuses to turn around their funds. However, there are requirements to get subsidies, must complete the sales targets of the manufacturers issued the task, which formed a strange cycle, in order to complete the task will inevitably be discounted to sell cars.

At the same time, there has been a break in the capital chain, including the phenomenon of dealers running around, including Beijing Liantuo Group and Henan Yongxin Group. Industry insiders believe that there is a contradiction between excessive release of production capacity and relative lack of demand in the current automotive market, which causes dealers to carry most of their inventory. In order to transfer funds, price reductions have resulted in a decrease in the gross profit of bicycle sales, which has reduced the profitability of corporate operations and has generally reduced the profitability of dealers.

Dealer "downsizing" costs

At the moment, car manufacturers have realized their respective channel issues. From the first quarter of this year, they have continuously lowered their sales targets and adjusted their business policies. Last week, Jaguar Land Rover formally announced that it would lower its sales target for dealers in China and expand its sales incentive program. Previously, BMW and other brands have lowered their sales targets in the second quarter.

However, in the eyes of dealers, these measures only reduce pressure and their profitability has not improved. The plan to reduce the number of existing stores and slow down the investment in new 4S stores has become the main way for dealer groups to reduce losses. It is understood that the huge group has shut down or sold some of its consecutive loss-making and undeveloped stores since last year. The data at the end of last year showed that there were 1,226 car dealerships in the huge group, and by the end of 2013, this number was 1,351. According to the plan, Huge Group will launch the asset austerity plan and plan to reduce the company's total fixed assets by half within the next three years.

"It will be a year before we can realize profitability. Now it is not bad if we can recover the investment in 6-7 years." A person in charge of a luxury brand dealer said that in the past two years, the cost of building a store, operating costs, financing costs All are rapidly increasing, and a new luxury brand needs tens of millions of dollars.

The data shows that although the total number of 4S stores in the country's top 100 dealership groups increased to 5,180 last year, a year-on-year increase of 6.1%, the growth rate has been halved from the previous year, and last year was the slowest growth rate in the past five years. .

Internet thinking test water

According to Shen Jinjun, since 2012, the era of huge profits of car dealers has ceased to exist, and the auto market is facing major adjustments and changes. However, despite the fact that in the past year or so, many distributors have vigorously carried out diversified innovation and marketing, their main source of profit is still new car sales. Therefore, car dealers also need more Internet thinking to innovate.

In response, a number of dealer groups stated that they will focus on opening up Internet business this year. In March of this year, Foxconn, Tencent and Harmony signed a strategic cooperation framework agreement on "Internet Intelligent Electric Vehicles", and the three parties will launch innovative cooperation in the "Internet Intelligent Electric Vehicle" field. On May 28, Guanghui Auto and Auto House jointly announced the completion of the signing of the comprehensive strategic cooperation agreement. According to the strategic cooperation agreement, Guanghui Auto and Auto Home will explore the automobile distribution service industry in the "Internet" through complementary advantages and resource integration. The integration and transformation under the times.

Pang Qinghua, chairman of the giant group, said that although traditional car dealerships have been hit by the Internet, whether it is to cut into the car network, or to join hands with Internet companies to build car sales service platform, can be understood as embracing the new business model of the Internet era, which reflects Traditional automobile chain companies are actively seeking transformation.

Aftermarket exhaust Headers
Aftermarket exhaust headers are intended to replace the factory fitted exhaust manifolds.
We can make all kinds of Aftermarket exhaust Headers in various kinds of material, such as Stainless steel 304, Stainless steel 409, carbon steel etc.
We have the most advanced equipments and have been providing professional OEM production services on tubular welding products for our oversea customers for years.
Eliminate backpressure and increase horsepower, we are the industry`s finest selection of aftermarket or performance exhaust headers for your engines.
Eliminate backpressure and increase horsepower, we are the industry`s finest selection of aftermarket or performance exhaust headers.
We are a manufacturer that can provide the end-to-end Exhaust System or its components for the motorized vehicles. We have extensive expertise and experience in making tooling as well as welding, polishing, pipe bending, etc. And we are very proud of being one of the few factories in China that can manufacture the latest exhaust system as we have a complete line of modern equipment and a very capable team of factory staffs in our plant.
After Market Exhaust Header,Stainless Steel Headers,Exhaust Pipe Headers,Exhaust Headers Kit
JINING FAREAST LIANGFEI CONVERTER & MUFFLER CO. LTD , https://www.golbaltour.com