Three months of precise and rigorous technical communication lasted several times on site. At the end of the day, Inner Mongolia Jindawei Pharmaceutical Co., Ltd. decided to dry up.
The equipment purchased by the customer is a pressure spray dryer. The speciality of the materials and the large amount of production are rare in the country. Therefore, the customers have very high requirements on all aspects of the manufacturers. The customer did not contact us for the first time. He had previously communicated with many drying plants for a long time, and many of them were large drying plants. Our company entered the customer's line of sight at a later stage, but it was at the disadvantage of entering late. Under the conditions, our company has won the final acceptance from many competitors with solid and excellent technical level, advanced production technology, customer-oriented service concept and rapid response capability. From this perspective, the cooperation with Jindawei is also a reflection of our comprehensive strength.
Jindawei Group Co., Ltd. was founded on November 24, 1997. It is a key high-tech enterprise of the National Torch Plan. It was listed on the Shenzhen Stock Exchange of China on October 28, 2011. The company has now invested in Xiamen and Hohhot. A production base. The company's five major series of Coenzyme Q10, Microalgae DHA, Plant ARA, Vitamin A and Vitamin D3 are widely used in medicine, health products, food, cosmetics and feed, etc. It is a well-known nutrition fortifier manufacturer in the industry.
The equipment processing capacity of this customer order is 6000kg/hour. The 12% solids fermentation broth was dried to below 8%. In order to keep the activity of the material, the temperature of the whole drying process is controlled at 40-50°C, the adjustment accuracy is within ±1°C, and the abnormal temperature alarm measures are set. The system feed pump is equipped with a filter device, which effectively prevents the clogging of the sprayer and the device can not continuously work due to frequent replacement of filter media. At the same time, the design of the fan, blower and feed pump interlock device, induced draft fan Once the blower fails, the feed pump stops automatically, making the equipment operation more reasonable.
Taking into account the material return rate, this set of equipment is equipped with air hammer in the spray tower, cyclone separator, bag filter. In order to make the equipment less dirty, easier to clean, and in line with GMP requirements, our company uses SUS304 stainless steel for internal contact with the material.
It is self-evident that our company stands out among many drying companies and won orders from Jindawei in one fell swoop, but our company will not be proud of it. In the future, we will provide better service and better quality. The equipment to thank the new and old customers for the years of support of Health.
Working principle:
Steel strip is made into Z type keel by machine through cold-bend forming technology.
Usage:
Z keel produced by roll forming machine are widely used in construction, transportation and other industries. It is mainly used for roofing and wall of buildings, such as steel structures, airports, storehouses,etc.
Component:
1.Decoiler
2.Roll Forming System
3.Punching system
4.Cutting Device
5.Hydraulic Station
6.PLC control system
Working Flow:
Loading coil – decoiling – guide feeding – main roll forming – hydrarlic cutting – finished products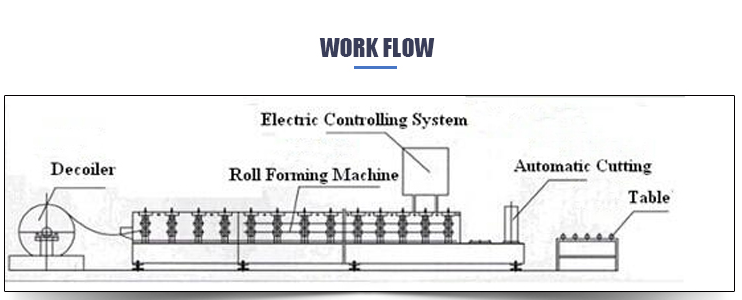 Technique parameters:
Processing material: aluzinc/galvanized steel/colored steel coil
Material thickness: 0.3-2mm
Main motor power:4kw(can change as request)
Pump power: 4kw
Shaft diameter: 75mm
Forming steps: 15steps and more
Roller material: high grade 45# steel, hard Chromium plating
Main frame: steel tube frame
Medium plate thickness: 16mm
Speed:8-12m/min
Material of the cutting blade:Cr12
Control system: PLC computer control
Power supply: 380V, 3 Phase, 60Hz (can change as customers request)
Our Z Keel Roll Forming Machine can greatly simplifie the production process and improve production efficiency. Customized profile keel roll forming machine can be produced.
Welcome visit our Factory!
Z Keel Roll Forming Machine,Light Steel Z Channel Roll Forming Machine,Z Shape Channel Purlin Roll Forming Machine
CANGZHOU DIXIN ROLL FORMING MACHINE CO., LTD , http://www.hebeimachine.com