As of now, China's car ownership has reached 130 million, providing a broad space for the scale and development of the automotive aftermarket. In 2012, the scale of China's auto aftermarket has reached 460 billion yuan. With the growth of the age of the vehicle, the market size will reach 766 billion yuan by 2015, and it is expected that the market scale will exceed one trillion yuan by 2020. It seems that China's unfair market after the auto market is known as the "golden industry" on a worldwide scale.
Under this market scale, there are currently more than 350,000 car maintenance companies in China, of which 250,000 are just "roadside shops" that change oil and change three filters. There are 100,000 relatively regular repair workshops. Around home, there are more than 700,000 suppliers supplying parts for these 350,000 repair shops or companies. It seems that in China, both repair shops and spare parts suppliers have huge numbers. However, according to the experience of European and American auto aftermarkets, most companies will be integrated and eliminated, and the market will be in the hands of a few large-scale enterprises.
So, in order to become these few, both repair shops and component suppliers are building their own brands. However, the change of the maintenance factory as a terminal market deserves our attention, and it is precisely because their upgrading will bring opportunities to component suppliers.
Brand Maintenance Factory Focuses on Parts Quality

A brand-name repair shop with a certain scale is not a priority to "pay attention to the supply channels of parts and the protection of profit margins", but to give priority to the "quality" of parts and components. The relevant association conducted a survey on the parts of the maintenance plant concerned, and obtained the following data - statistical data show that the maintenance plant's focus on parts: the quality of the concern value of 90% came in first; fast delivery of attention The value is 85%; the concern value of after-sales service is 70%; and the concern value of supply channel and profit space guarantee is 45%, ranking last.
According to the analysis, with the gradual maturity of Chinese consumers and the clear and inelastic provisions of the "car three bags law" on the automobile after-sales service market, higher service requirements have been put forward for auto maintenance companies. These requirements are directly reflected in the With the strict quality control requirements, combined with other factors such as "quality can bring profits", the quality of parts and components is a priority for maintenance companies that want to become brands.
Establish a reliable procurement channel for brand components

In fact, high-quality brand parts are an important means and a future development direction for car maintenance companies to counter 4S stores. Many maintenance companies have reached such a consensus. However, due to the lengthy procurement channels and the existence of some individuals who seek personal gain, it is not easy for a repair shop to purchase brand parts. For this reason, the repair shop is also making related efforts.
It is understood that there are twenty or thirty comprehensive maintenance plants in Guangzhou jointly funded the establishment of spare parts procurement and distribution centers, self-invited vehicles, unified procurement, comprehensive evaluation of parts suppliers, recommendation of brand suppliers and poor suppliers To "kill." After several years of operation, a relatively good and reliable supply environment has been formed and good results have been achieved.
It is precisely because of the establishment of such procurement channels that the market has a reputation, quality, and integrity of brand parts suppliers to obtain a better market environment, access to a good opportunity for development.
Interchangable AHP AHF EP MC series Slurry Pump Parts and FFY frame Slurry Pump parts
PU material slurry pump parts
Interchangeable AHP slurry pump parts
Interchangeable AHF slurry pump parts
Interchangeable EP MC series slurry pump parts
Interchangeable FFY frame slurry pump parts
Polyurethane impeller (PUR and PU) is made by Polyurethane which is a polymer composed of a chain of organic units joined by carbamate (urethane) links. This impeller have better performance than nature rubber impeller for the slurry transportation.
We supply all kinds of slurry pump wet parts with excellent quality in competitive price.
These parts are all standard parts, can fit to the slurry pumps perfectly.
We supply interchangeable metal and rubber parts for slurry pump series(AH, HH, SP, G, L, ZJ, M models).
various kind of centrifugal pump spare parts , such as Slurry Pump Rubber/metal Impeller,
Metal/ Natural rubber liners, Expeller, etc.
Product Materials:
High chrome alloy: A05, A07, A49, etc.
Natural rubber: R08, R26, R33, R55, etc.
Other materials can be supplied as requirements .
Casting, shaft, throat bush, front liner, back liner, wear plate, case, cover, stuffing box, lantern restrictor,
cover plate bolt, volute, throat bush, shaft sleeve, cover plate liner, frame plate liner ,neck ring, expeller ring,
expeller, bearing assembly, volute liner, volute packing, bowl, bearing cartridge, cover plate liner, impeller,
closed impeller, open impeller
OEM Service
We also provide OEM service according to customer's special requirements .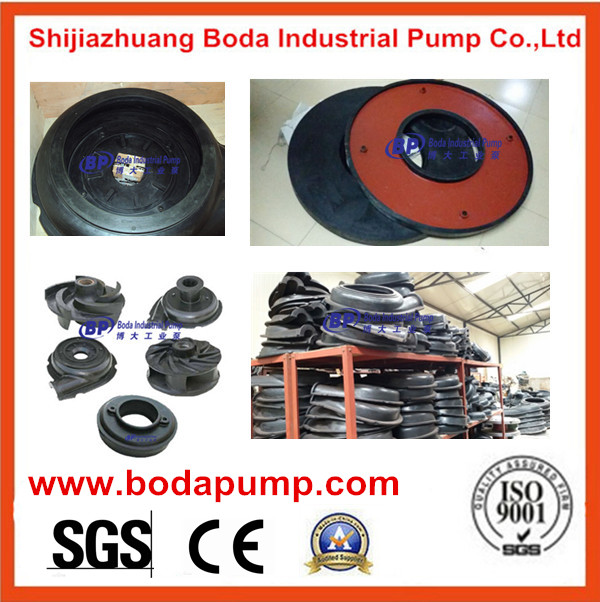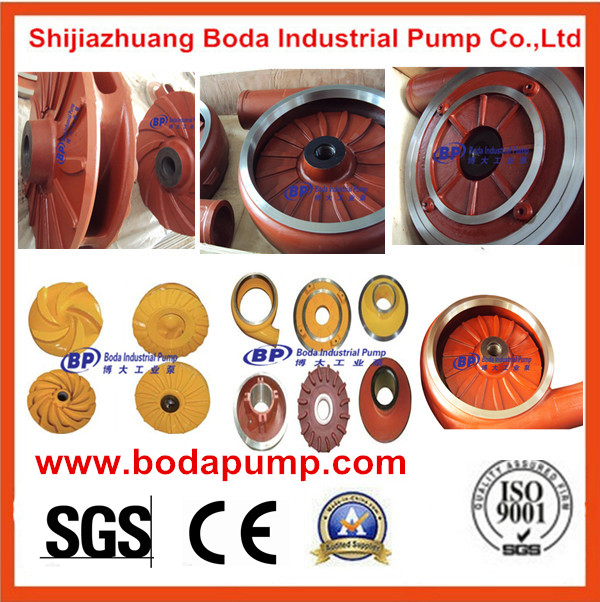 Slurry Pump Parts
Warman Slurry Pump,Replacement Slurry Pump Parts,Dredge Slurry Pump,Dredge Gravel Slurry Pump
Shijiazhuang Boda Industrial Pump Co., Ltd. , http://www.mineralslurrypump.com