From the beginning of the Chinese valve in the 1990s, the number of valve companies in China ranks first in the world, and there are about 6,000 valve companies of various sizes. Among them, 1,806 have annual sales income of more than 20 million yuan. The valve industry is developing very rapidly. Total assets of 194.8 billion yuan, an increase of 2.01%; production of 9,941,100 tons of valves, an increase of 1.32%; realized main business income of 256.6 billion yuan, an increase of -0.47%; total profit of 17.2 billion yuan, an increase of -5.78%; Profit of 6.7%; valve product price index of 98.5%; completed export delivery value of 34.4 billion yuan, an increase of -8.58%. Among them, Jiangsu Province produced 920,000 tons of valve products, with a main income of 54.401 billion yuan, an increase of 4.84% year-on-year, and a total profit of 4.094 billion yuan, a year-on-year increase of -2.55%. The indicators were better than the national average.
Many world-famous valve makers closed their factories in North America, Europe, and Japan to China, India, South Korea, and Central Europe to reduce the cost of valve production and increase sales profits. Following the increase in the development and use of oil and natural gas in China, China's valve shopping malls have increased significantly, which makes most valve manufacturers pay more attention to building factories in China. Therefore, there is an upsurge in the establishment of foreign valve companies in China. Some companies even have multiple factories in China to shorten the delivery distance and delivery time.
Except for some special valves, domestically produced valves can basically meet the needs of the national economy in various fields and infrastructure construction. In particular, in recent years, major breakthroughs have been made in the localization of millions of kilowatts of nuclear power station valves, represented by China Nuclear Su Valve Technology Industrial Co., Ltd., Dalian Dagao Valve Co., Ltd., Jiangsu Shentong Valve Co., Ltd. and Shanghai Valve Factory Co., Ltd. A number of key enterprises have developed important nuclear-level valve products, among which the nuclear-level shut-off valves, check valves, ball valves, butterfly valves and most of the gate valves have been domestically produced. The localization rate of nuclear power valves has increased from 6% 8 years ago to more than 75%. The valve companies represented by Chengdu Chengfeng Valve Group, Wuzhou Valve Group and Shanghai Nile Rice Co., Ltd. developed fully welded pipeline ball valves (PN5-15MPa, DN28′′-48′′) for long-distance natural gas transmission pipelines, and welded below 48′′ Pipeline ball valves can be fully domesticated, and the development of these new products has filled the domestic gap, and some products have reached or are close to the world's leading level.
No matter how the valve industry develops, the quality of products is the foundation of our development, and the core technology of science is the catalyst for our development. We believe that we must adhere to our own principles and find our own way before we can continue to make breakthroughs in our development.
Big Automatic Vacuum Forming Machine
Big Automatic Vacuum Forming Machine applications
Vacuum forming machine is suitable for material like PVC, PE, PET, PC, PP, PS, HIPS, APET, PETG, etc.
It can transform plastic sheets into various plastic Blisters / clamshells / Containers, It is widely used in toys, hardware, foods, stationery, cosmetic product, electronics products, etc.
Big automatic Vacuum Forming Machine features
1. High performance small motor drives heat furnace, fast and smooth.
2. Ceramic heating elements, control the temperature of each heating element separately, suitable for the product of complex structure.
3. The area of lower mould is closed, blowing after the material being heated and soft which can avoid material sinking, can insure the uniform thickness of finished good.
4. Lower mould is driven by big cylinder, rack positioning can insure running smoothly.
5. Large air cooling motor which can insure finished good rapid cooling.
6. Equipped with water cooling system, can further rapid cooling.
7. Double-furnace(optional), can heat the material on two surfaces, especially suitable for thick material(5-10mm).
Big automatic vacuum forming machine parameters
Model

HX-71S

Power supply

AC380 50/60HZ

Power

Power

Max. forming length

610mm

these size can be changed according to customer require

Max. forming width

610mm

Max. forming height

150mm

Material thickness

1.0-5.0mm

Output

100-200moulds/H

Machine size

2700*1400 *2000mm

Net weight

2500KG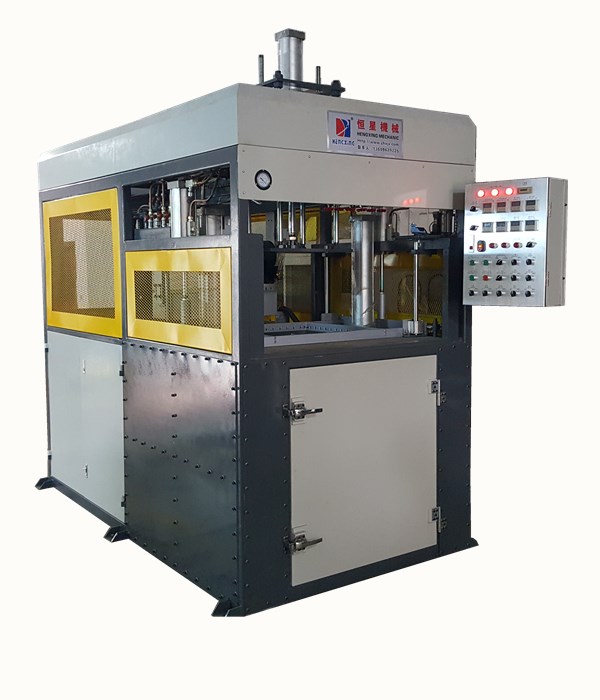 Big Automatic Vacuum Forming Machine
Big Automatic Vacuum Forming Machine,Big Automatic Plastic Vacuum Forming Machine,Automatic Sheet Vacuum Forming Machine,Thick Material Blister Vacuum Forming Machine
ShenZhen Hengxing Machinery Factory , http://www.szchxjx.com